---

April 9, 2017

S T A N D I N G B Y . . .


---

February 21, 2017

Remarks by President Trump &amp First Lady Melania Trump
at Make America Great Again Rally
Orlando Melbourne International Airport, Melbourne, Florida
February 18, 2017
---
Locations of visitors to this site plotted on world map.

Compare cluster to Earth lights...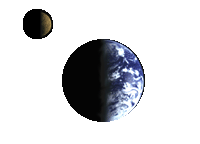 Earth &amp Moon from Galileo spacecraft as it was leaving Earth space. Photo: NASA; All mission costs paid for by the American taxpayer.
---

All material on this website is authored and copyrighted by David Sadler unless otherwise noted. Individual articles and comments may be reposted and reprinted as long as the author is given full credit and a link is provided to this website. david-sadler.org is not responsible for the content of linked external websites. Third party copyrighted images and quoted portions of third party copyrighted written material are posted under Fair Use. Thank you...

---