---

February 18, 2018

OPEN LAWFARE WITHIN THE UNITED STATES GOVERNMENT
MEMOS, DOSSIERS &amp INDICTMENTS



DOCUMENT SEARCHES


MUELLER (SPECIAL COUNCIL) INDICTMENTS:



INTERNET RESEARCH AGENCY LLC (Russian Troll Farm) (Filed: 02/16/2018)

Indictments / scribd
Indictments / Document Clound
Rosenstein: "No Allegation in This Indictment That Any American Had Any Knowledge" Of Russian Election Influence Operation / Source



Gen. Michael Flynn (Filed: 11/30/2017) / Pleaded guilty

Paul J. Manafort and Richard W. Gates III (Assign date: 10/27/2017) / Pleaded not guilty, but has since challenged

George Papadopoulos (Filed: 10/03/2017) / Pleaded guilty




GRASSLEY MEMO / Redacted: U.S. Senate Committee on the Judiciary


NUNES MAJORITY MEMO / Unredacted: House Permanent Select Committee on Intelligence (HPSCI)
Foreign Intelligence Surveillance Act Abuses At the Department of Justice and the Federal Bureau of Investigation


SCHIFF MINORITY MEMO / redacted: House Permanent Select Committee on Intelligence (HPSCI)


STEELE DOSSIER: "US PRESIDENTIAL ELECTION: REPUBLICAN CANDIDATE DONALD TRUMP'S ACTIVITIES IN RUSSIA AND COMPROMISING RELATIONSHIP WITH THE KREMLIN"


COMEY MEMOS

The infamous Comey Memos are MISSING IN ACTION




ROSENSTEIN MEMO


=== ARTICLES ===
---

January 31, 2018

House Permanent Select Committee on Intelligence Press Releases:
Nunes Statement on FBI, DOJ Objections to Release of HPSCI Memo



Original statement HERE / , 2018.01.31
"Washington, January 31, 2018

"House Permanent Select Committee on Intelligence Chairman Devin Nunes issued the following statement today:

"Having stonewalled Congress' demands for information for nearly a year, it's no surprise to see the FBI and DOJ issue spurious objections to allowing the American people to see information related to surveillance abuses at these agencies. The FBI is intimately familiar with 'material omissions' with respect to their presentations to both Congress and the courts, and they are welcome to make public, to the greatest extent possible, all the information they have on these abuses. Regardless, it's clear that top officials used unverified information in a court document to fuel a counter-intelligence investigation during an American political campaign. Once the truth gets out, we can begin taking steps to ensure our intelligence agencies and courts are never misused like this again."

• The Evidence Inside The "House Intel Committee Four Page FISA Memo" / , 2018.01.19

"As the year-long story has unfolded, there are two central components at the heart of the political corruption and weaponization of the DOJ and FBI:
First, corruption within the DOJ and FBI that included their use of unlawful use of FISA-702 exploits; and
Second, how that intelligence information was extracted, passed along to those outside government, repackaged, and reconstituted into the "Steele Dossier". The finished, albeit sketchy, intelligence was later returned to the FBI to request lawful FISA court surveillance authority. It is a circle of "intelligence laundering."
---

December 13, 2017


Reps Jim Jordan &amp Trey Gowdy
Question Deputy Attorney General Rod Rosenstein

Scott Anthony
Published on Dec 13, 2017

• On YouTube: here / , 2017.12.13





GOP Rep: We Have Proof DOJ Worked Against Republican Party During Election

• On YouTube: here / , 2017.12.13


---

May 29, 2017

Seth Rich Assassination



• New Evidence Suggests Seth Rich Was DNC Leaker / Jerome Corsi | Infowars.com, 2017.05.29
"Rich had access to leaked DNC emails - Part 1 of in-depth, investigative report into Rich's murder

"This article is Part 1 in a series of three articles investigating the Seth Rich murder. Hillary's campaign was lax on cybersecurity, inviting cyberattacks, hacks and leaks. By conspiring with the DNC to make sure Sanders did not have a chance of winning, Hillary invited backlash from Sanders-supporters within the DNC. This series of articles explores the evidence that Seth Rich, a young, progressive operative hired to an IT position by the DNC, leaked to WikiLeaks thousands of John Podesta's emails.

"The breakthrough in this series of articles is the attempt to apply intelligence analytical techniques to sort out the various known cybersecurity attacks on the Democrats during the 2016 presidential campaign to determine the rogue agent responsible for each separate known cybersecurity attack.

"... Ultimately, though the course of the 2016 campaign, Hillary's personal email server was hacked, the NGP VAN system was hacked, the DNC was hacked, the Sanders campaign was hacked, and the Clinton campaign was hacked.

"Seth Rich was reportedly a leaker, not a hacker, and his sole offense was to steal and leak documents out of the Clinton campaign.

"As we shall see in the second article in this series, identifying and distinguishing each hacking incident that plagued the Democrats during the 2016 presidential campaign is critical in unraveling the mystery of Seth Rich's murder.

"... The leaks that plagued the DNC and Hillary's campaign stemmed from internal conflicts of interest.

"These conflicts developed when the Sanders campaign (and Sanders loyalists working in the DNC and even within Hillary's campaign) realized the DNC under Debbie Wasserman Schultz was implementing a plan developed in conjunction with Clinton campaign top operatives to steal the Democratic Party nomination from Sanders by rigging the primary contests and subsequent delegate count in Clinton's favor.

"... The first sub-point is this: Hillary Clinton and the DNC left themselves open to leaks from within once Debbie Wasserman-Schultz and Donna Bazile at the DNC decided to throw the primary elections for Hillary – all email leaks in 2016 involved Hillary Clinton, not Bernie Sanders.

"The second sub-point is this: No information of any importance was ever hacked or leaked out of the Bernie Sanders campaign – certainly no emails, no campaign files, and no voter data.

"... Editor's Note: Imran Awan, Debbie Wasserman Schultz's IT staffer who is under investigation for data breaches, had easy access to internal DNC emails. Schultz was caught on tape threatening the Chief of Capitol Police to return one of Awan's laptops secured as evidence. Awan recently fled to Pakistan. If he had easy access, Rich would've as well, and Rich, a progressive idealist, had more motive to leak DNC emails, as the article above reveals."

Jerome Corsi articles in full:
---

February 21, 2017

Remarks by President Trump &amp First Lady Melania Trump
at Make America Great Again Rally
Orlando Melbourne International Airport, Melbourne, Florida
February 18, 2017
---
Locations of visitors to this site plotted on world map.

Compare cluster to Earth lights...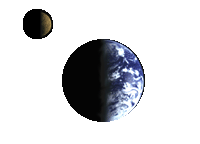 Earth &amp Moon from Galileo spacecraft as it was leaving Earth space. Photo: NASA; All mission costs paid for by the American taxpayer.
---

All material on this website is authored and copyrighted by David Sadler unless otherwise noted. Individual articles and comments may be reposted and reprinted as long as the author is given full credit and a link is provided to this website. david-sadler.org is not responsible for the content of linked external websites. Third party copyrighted images and quoted portions of third party copyrighted written material are posted under Fair Use. Thank you...

---