---

February 23, 2015 (updated: 2/26/2015)

D-DAY for US Internet
Tell the government (FCC &amp Congress), 'Hands off the Internet!'
What did our troops fight and die for again?
There's more propaganda swirling about pending changes to Internet laws and regulations in the USA than there is swirling around US / NATO / Western interference in Ukraine.

Are you confused yet regarding the war on the Internet being waged in Washington, D.C.? Who are the good guys? Who's wearing the white hats? Is it FCC Chairman Tom Wheeler wanting to base new Net Neutrality rules on Title II of the Communications Act? Or is it Sen. John Thune and Rep. Fred Upton pushing their new regulations of the Internet called, 'Title X?'

Who owns Congress? Who owns the Executive White House? Who do we believe? The Wall Street Journal? USA Today? The UK's Daily Caller? Do we trust the FCC and Congress? Or do we listen to Save the Internet that has been fighting for a free and open Internet for over a decade? Has Save the Internet been taken over, or is it once again telling us the truth?

One thing is certain. Nothing good comes from secrecy in government. We need to see all bills and all pending rules and regulations before making our decision. So Congress and the FCC need to disclose everything and allow a public review before any changes are made.



What's the hurry? Is the US under military attack?
There's confusion and secrecy here.
A 60 day cooling off period is the smart thing to do.



Read all sides then make your decision, but remember, these are laws and rules and regulations -- not immutable laws of physics. Any decree can be repealed. Even ObamaCare. Even open borders and 'free' trade -- as long as we care and are unafraid to act.

Laws, rules and regulations are not immutable laws of physics. Government can repeal any law, rule and regulation to return America back to its constitutional form of government. The problem is, there is no party that represents the constitutional America of the past. BOTH major parties are on board with the agenda of those political and economic forces that control the American government.

The American people, the American spirit has been diluted to the point that there is no possibility that the American people are going to wake up and demand change. We are in new territory as Americans. We are in a time of not just asymmetrical warfare, but asymmetrical everything.

Draw your family and loved ones close. Keep working. Keep thinking. Keep learning. Keep the lights on and food on the table while humanity sorts this out. Keep the faith.
Here's one thing you can do right now.
See if Congress will listen to you. This is their D-Day too.
"In May 2014, FCC Chairman Tom Wheeler released a plan that would have allowed companies like AT&amp T, Comcast and Verizon to discriminate online and create pay-to-play fast lanes.

"Millions of you spoke out — and fought back.

"Thanks to the huge public and political outcry, Wheeler shelved his original proposal, and on Feb. 4, 2015, he announced that he will base new Net Neutrality rules on Title II of the Communications Act, giving Internet users the strongest protections possible.

"The FCC will vote on Wheeler's proposal at its Feb. 26 meeting . If all goes well, it will be a watershed victory for activists who have fought for a decade to protect the open Internet."

-- Save the Internet

*****/////\\\\\*****

"Tell Congress: Oppose Title X --- Save Net Neutrality

"With the FCC so close to finally passing real Net Neutrality rules, things are getting ugly in Congress.

"Sen. John Thune and Rep. Fred Upton are pushing fake Net Neutrality legislation — dubbed "Title X" — and it's a loophole-ridden disaster.

"While the Thune-Upton bill is disguised as Net Neutrality legislation, it would actually just protect the phone and cable broadband duopoly from oversight. It legalizes a lot of harmful discriminatory practices by preventing the FCC from moving on its own to adopt and enforce rules.

"This proposed legislation needs to be exposed for what it is: a cynical cable-lobby effort to prevent the FCC from enforcing the law to keep the Internet open and nondiscriminatory.

"Let's stop this bill before it starts — call Congress now."

-- Free Press Action Fund
Articles:

• Dear FCC: Thanks for Listening to Team Internet! / Electronic Frontier Foundation, February 26, 2015
"Today the FCC voted three to two to reclassify broadband Internet access as a common carrier service under Title II of the Communications Act, and forbear from the parts of the Act that aren't necessary for net neutrality rules. This reclassification gives the FCC the authority to enact (and enforce) narrow, clear rules which will help keep the Internet the open platform it is today.

"As expected, the FCC's new rules forbid ISPs from charging Internet users for special treatment on their networks ... the FCC has banned ISPs from blocking or throttling their customers' traffic based on content, applications or services—which means users, hackers, tinkerers, artists, and knowledge seekers can continue to innovate and experiment on the Internet, using any app or service they please, without having to get their ISP's permission first ...

"Even better, the rules will apply to wireless and wired broadband in the same way, so you don't have to worry that your phone switching from Wi-Fi to a 4G network will suddenly cause apps not to work or websites to become inaccessible ...

But ...

"The problem with the ["general conduct rule"] ... is that neither ISPs nor Internet users can know in advance what kinds of practices will run afoul of the rule. Only companies with significant legal staff and expertise may be able to use the rule effectively. And a vague rule gives the FCC an awful lot of discretion, potentially giving an unfair advantage to parties with insider influence. That means our work is not yet done. We must stay vigilant, and call out FCC overreach."


• The biggest victory for the public interest in the agency's history / Save the Internet, February 26, 2015
"After FCC Chairman Tom Wheeler released a proposal in 2014 to allow pay-to-play fast lanes online, Comcast and its pals thought they'd won the fight. But Free Press members and millions of people across the country proved them wrong.

"After a year of relentless activism, Wheeler reversed course — leading to the historic Feb. 26 vote.

"The cable and phone companies will do everything they can to knock this victory down, but our message is clear: Mess with the Internet, and you'll lose."


• Save the Internet: FCC Net Neutrality rules worst example of government intervention... ever / FOX News, February 26, 2015

• Internet, RIP? / Ron Paul, February 26, 2015
"Today the Federal Communications Commission (FCC), a non-elected federal government agency, voted three-to-two to reclassify broadband Internet as a common carrier service under Title II of the Communications Act. This means that – without the vote of Congress, the peoples' branch of government – a federal agency now claims the power to regulate the Internet ...

"The FCC's newly adopted rule takes the most dynamic means of communication and imposes the regulatory structure designed for public utilities."


• Net Neutrality Explained / , February 26, 2015
"Net neutrality revolves around a key question: Should internet bandwidth be treated equally for everyone? Here's a look at the debate."
---
---


• Is the FCC lawless? / The Hill, February 25, 2015
"This Thursday, Feb. 26, will be a fateful day for the future of the Internet. In the nearly 40 years that I have been involved in communications law and policy, including serving as the Federal Communications Commission's (FCC) associate general counsel, this action, without a doubt, is one of the agency's most misguided.

"The sad reality is that, without any convincing evidence of market failure and consumer harm, the FCC is poised, on a 3-2 party-line vote, to expand its control over Internet providers in ways that threaten the Internet's future growth and vibrancy."


• FCC Commissioner Ajit Pai: Net Neutrality is a "Solution That Won't Work to a Problem That Doesn't Exist" / Reason.com, February 25, 2015
"Pai explains his opposition to Title II reclassifcation to Reason's Nick Gillespie. Citing independent studies of American competitiveness and booming investment in telecommunications infrastructure compared to Europe, Pai argues that consumers are thriving and the market is doing its job.

"Regulating the internet like a utility company, says Pai, will threaten the kind of innovation we've taken for granted over the past 20 years. 'Do you trust the federal government to make the Internet ecosystem more vibrant than it is today?' Pai asks. 'Can you think of any regulated utility like the electric company or water company that is as innovative as the Internet?'"


• Dear FCC: Rethink The Vague "General Conduct" Rule / EFF, February 24, 2015
"For many months, EFF has been working with a broad coalition of advocates to persuade the Federal Communications Commission to adopt new Open Internet rules that would survive legal scrutiny and actually help protect the Open Internet. Our message has been clear from the beginning: the FCC has a role to play, but its role must be firmly bounded.

"Two weeks ago, we learned that we had likely managed the first goal—the FCC is going to do the right thing and reclassify broadband as a telecommunications service, giving it the ability to make new, meaningful Open Internet rules. But we are deeply concerned that the FCC's new rules will include a provision that sounds like a recipe for overreach and confusion: the so-called "general conduct rule."


• Democratic FCC commissioner balks at net neutrality rules / The Hill, Feb. 24, 2015
"Clyburn's changes would leave in place the central and most controversial component of Wheeler's rules — the notion that broadband Internet service should be reclassified so that it can be treated as a "telecommunications" service under Title II of the Communications Act, similar to utilities like phone lines.

"Proponents of net neutrality have said that move is the surest way to prevent Internet service providers from interfering with people's access to the Web.

"However, she wants to eliminate a new legal category of "broadband subscriber access services," which was created as an additional point of legal authority for the FCC to monitor the ways that companies hand off traffic on the back end of the Internet.

"Those deals, known as "interconnection" arrangements, became a point of contention last year, when Netflix accused Comcast and other companies of erecting "Internet tolls" before easily passing Web traffic from one network to another."


• As Republicans Concede, F.C.C. Is Expected to Enforce Net Neutrality / NYT, Feb. 24, 2015
"Last April, a dozen New York-based Internet companies gathered in the Flatiron Building boardroom of the social media website Tumblr to hear dire warnings that broadband providers were about to get the right to charge for the fastest speeds on the web.

"The implication: If they didn't pay up, they would be stuck in the slow lane.

"What followed has been the longest, most sustained campaign of Internet activism in history, one that the little guys appear to have won. On Thursday, the Federal Communications Commission is expected to vote to regulate the Internet as a public good."


• From Internet to Obamanet / WSJ, Feb. 22, 2015
• Republican FCC Commissioners Ask Wheeler To Delay Net Neutrality Vote, Release Proposal / Daily Caller, 2/23/2015
"'FUTURE OF ENTIRE INTERNET AT STAKE'

"'We respectfully request that FCC leadership immediately release the 332-page Internet regulation plan publicly and allow the American people a reasonable period of not less than 30 days to carefully study it,' Republican Commissioners Ajit Pai and Michael O'Rielly said in a statement Monday. 'Then, after the commission reviews the specific input it receives from the American public and makes any modifications to the plan as appropriate, we could proceed to a final vote.'

"The commission is set to vote on Wheeler's aggressive proposal — which will regulate Internet service providers as public utilities and set new standards for speed and pricing — on Thursday, when it is expected to pass by a partisan vote of 3-2."

• Obama's regs will make Internet slow as in Europe, warn FCC, FEC commissioners / Washington Examiner, FEBRUARY 23, 2015
• FCC chief pressed to release net neutrality rules / USA Today, February 23, 2015


---

February 13, 2015 (updated: 2/25/2015)

UKRAINE
The Minsk Agreement is the calm before the storm.

• Minsk Agreement On Ukraine Crisis: Text In Full / ICH, February 12, 2015
Articles ...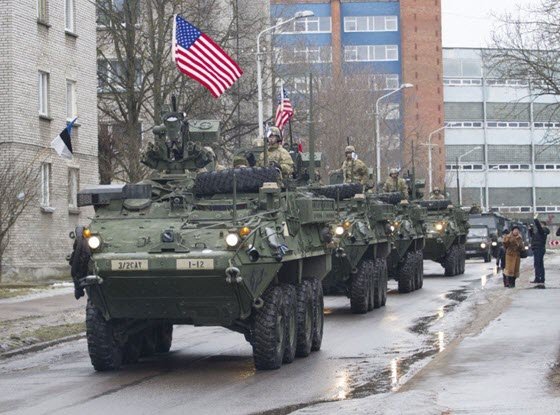 Image source: Global Research, US Tanks on Russia's Border in Narva, Estonia

Map of Narva, Estonia in relationship to Russia

here

.



• US-NATO Military Convoy of Tanks and Armored Vehicles at Russia's Doorstep, Rolling Along the Estonia-Russia Border / Global Research, February 25, 2015
"... a long column of military vehicles, including tanks and armored cars. This column, according to the caption, was filmed on 23 February in the border city of Narva, Estonia, The city is located on a reservoir that provides St. Petersburg [electric] power ... Of course, NATO military exercises can occur anywhere. But why specifically are they taking place in Estonia [at Russia's doorstep]? And why are they displaying American flags right on the Russian border? And why now, with the resurgence of war in Ukraine?"
FLASHBACK: • MH17 Verdict: Real Evidence Points to US-Kiev Cover-up of Failed False Flag / 21st Century Wire, JULY 25, 2014

• Ukraine's 128th Brigade commander blamed for losing state-of-the-art US-supplied equipment / Fort Russ, February 24, 2015
"... the 128th Brigade abandoned the latest US counter-mortar radar which was supplied to us only recently. It was the first delivery of precision US weaponry to Ukraine. The radar was well packed, and I hope that at least they had some opportunity to use it."


• The Beautiful Truth about Minsk II &amp The Debaltsevo Debacle / by Joaquin Flores, Center for Syncretic Studies via Fort Russ, February 19, 2015
"On February 12th, on the day Minsk II was signed by the contact group as agreed to by the Normandy 4, we wrote:

"These are the relevant factors which produce the strong sense that these Normandy 4 meetings involve some very serious things and some complex levels that are beyond the scope of what is reported. Russia conducts itself in these meetings from a position of strength.

"Critical events since the February 12th ceasefire tell us what the real underlying factors beyond the scope of what was reported indeed were. With the Ukrainian Army having been encircled in the Debaltsevo region and without provisions, mass surrenders are already underway. There are already reports of thousands of UAF dead. Close fighting in the town itself have resulted in the UAF being pushed out, with the town now under Novorossiyan control. The UAF had nowhere to go, and were out of ammo."
Image source: Voicesevas

•

More images of Kiev's Debaltsevo Debacle

/ Voicesevas, February 19, 2015


• Crimea: Was It Seized by Russia, or Did Russia Block Its Seizure by the U.S.? / by Eric Zuesse via Fort Russ, February 21, 2015
• Vauro: "The Americanist front is cracking" / Vita Magazine via Fort Russ, February 15, 2015

The West, led by the US, instigated the Ukrainian coup in February 2014 while Putin was hosting the Olympics in Sochi, Russia. In the related article below, a timeline of US wars is presented.

• America Has Been At War 93% of the Time – 222 Out of 239 Years – Since 1776 / Washington's Blog, FEBRUARY 21, 2015
"The U.S. has never gone a decade without war. The only time the U.S. went five years without war (1935-40) was during the isolationist period of the Great Depression."

See the article for a year-by-year timeline of America's wars.


• Russian tensions could escalate into all-out war, says Nato general / Telegraph, 20 Feb 2015
"General Sir Adrian Bradshaw, Nato's deputy supreme allied commander in Europe, says Vladimir Putin could try to invade and seize Nato territory"


• Novorossia acquires a treasure trove of UAF equipment abandoned at Debaltsevo / Fort Russ, February 19, 2015
• US-supplied armored Humvee captured by Novorossia militia / Fort Russ, February 19, 2015
• Is Washington Preparing to Wage War on Russia? Seeing through the Official Lies on Ukraine / ICH, February 19, 2015
"Charges of aggression and crime against Russia and Putin are daily proclaimed with no evidence, but together provide a pretext for why 'Russia must be stopped' and the US-led West Ukraine regime armed with US weapons to 'teach Putin a lesson.'"


• "If Kiev violates the agreement, Russia may refuse to recognize Ukraine's territorial integrity" - Vyacheslav Nikonov / Fort Russ, February 15, 2015
"If Kiev violates Minsk-2, Russia will consider itself freed from the obligation to recognize Ukraine's territorial integrity. During a plenary meeting of the State Duma on February 17, the United Russia Party deputy Vyacheslav Nikonov noted that the Minsk-2 agreement is a chance for peace in Ukraine, and a chance for Ukraine to exist as a state.

"If they don't want to take advantage of it, it will be only their fault. If the agreement is violated, Russia can also consider itself free from its provisions, which include the recognition of Ukraine's sovereignty and territorial integrity, so I would not advise Poroshenko, Yatsenyuk, Turchinov, and company to take this matter lightly."
-- Translated from Russian by J.Hawk

J.Hawk's Comment:
"to continue the war Poroshenko would have to abrogate the Minsk-2 agreement, which now faces no obstacles since the Debaltsevo Pocket has been practically reduced. Poroshenko's hyperbolic statements concerning UAF's heroic withdrawal from Debaltsevo confirm that the battle there is over. What Nikonov is doing is sending a signal (which has been picked up and amplified by other Russian officials, though not a single senior foreign policymaker—so far) that should Ukraine continue to look for ways to escalate the situation, Russia will see it and raise it."

• "No Ukrainian break-out attempts on February 18, last night's attempt crushed"--Basurin / Fort Russ, February 15, 2015
Translated from Russian by J.Hawk
"Today the Ukrainian media, apparently nationally conscious patriots one and all, as well as the C-in-C Poroshenko, were trying to outdo one another in convincing the Ukrainian people there is no problem in Debaltsevo. They published some fake photographs purporting to show the "planned withdrawal of columns of Ukrainian equipment." Even Ukrainian patriots saw through this blatant lie."

• ""Our HQ has fled, we are facing annihilation"--Junta battalion commander's frantic call on live TV / Fort Russ, February 17, 2015
"90% of Debaltsevo captured, we can't communicate with our HQ."

• 'Ukrainian gov't should not keep its troops from surrendering.' --Putin / Fort Russ, February 17, 2015
• Ukrainian troops surrender by the hundreds / Fort Russ, February 15, 2015
"Ukrainian punitive troops are surrendering in large numbers. Journalists have filmed the surrender of one of the punitive units in the Debaltsevo cauldron ... The main reward for their conscience and their refusal to continue the war is that their lives will be spared."


• Head of DPR Suggests Ukrainian Troops Leave Debaltsevo Without Weapons / sputniknews.com, February 15, 2015
"Several thousands of Kiev soldiers currently remain encircled in the key town of the Donetsk region ...

"The head of the self-proclaimed Donetsk People's Republic (DPR), Alexander Zakharchenko suggested Ukrainian troops leave Debaltseve without weapons and military equipment, the Donetsk News Agency said Sunday."


• 'Minsk II' - What About Foreign Troops in Ukraine? / ICH-RPI, February 15, 2015
"According to a translation of the 13 points, point number ten reads:

"All foreign troops, heavy weapons and mercenaries are to be withdrawn from Ukraine. Illegal armed groups would be disarmed, but local authorities in Donetsk and Lugansk would be allowed to have legal militia units.

"What about US troops, including CIA and Special Forces, that are said to be assisting the US-backed government in Kiev? Would Kiev not have the same obligation to expel these foreign troops? And, most importantly, what of the 600 US paratroopers that are to be sent by President Obama to train the Ukrainian military starting next month?

"Would it not be a violation of "Minsk II" ceasefire agreement for the US to go through with sending 600 troops into Ukraine?"

• Hollande and Merkel's betrayal! "Minsk conspiracy" in the eyes of the enemy / Fort Russ, Dima Piterski, February 12, 2015
Translated from Russian by Kristina Rus

"These documents were signed, let me remind you, with representatives of Ukraine - a failed state whose leaders are known for having never completed a single contract in their life ... Europeans, who were present there, previously had deceived Yanukovych, and their predecessors simply killed Qaddafi, to not have to pay back the debt. That is, their word is not worth much more then Poroshenko, Fox or Sonka the Golden hand. Putin and Zakharchenko with Plotnitsky, and any old grandma on a bench are well aware of this. Well, this is hilarious ...

"Regarding the remains of Ukraine, the time of their final burial will probably come when the Nazis will overthrow Poroshenko. Then it will be immediately announced, that Nazi criminals came to power, instituted terror, there are nuclear power plants, it is extremely dangerous, we cannot quietly watch this, and so on - after that the failed state, foolishly created by grandpa Lenin, will cease to exist and its territory will be divided between Russia and Poland. Perhaps Romania and Hungary will also be thrown a small piece or an independent Transcarpathian Republic will be recognized."

• The Ukrainian military is half-dead. Soon it will be dead. / Fort Russ, Yurasumy, 2/13/2015
Translated from Russian by J.Hawk

"Comment by Yurasumy: The real problem, in Kasyanov's estimate, is that the military is running out of ammunition and heavy equipment because it does not produce either on its own, at least not in sufficient quantities to make up for the heavy usage, and this has led to the loss of Uglegorsk and the Debaltsevo encirclement ...

"J.Hawk's Comment: I suspect the main cause of Poroshenko's sudden willingness to have an 'unconditional' ceasefire was the inevitability of sizable military defeat should the fighting continue for much longer ... nobody is willing to replenish UAF's stocks of armored vehicles and ammunition that have been expended in two bloody campaigns. Even in the US it seems to have dawned on everyone that Novorossia will not be defeated militarily, and any NATO intervention will be met by a Russian escalation which will simply end the Ukrainian state before the NATO aid has any effect on the ground ...

"The prospect of military catastrophe is likely what Poroshenko had in mind when he said at Minsk that if no agreement is reached ... Ukraine has burned up its gold and currency reserves, it is facing strict IMF-imposed austerity, so it's rapidly running out of the means, military and financial, for fighting the war."

• U.S. alleges Russian fighting in Ukraine hours ahead of cease-fire / Washington Post, February 14, 2015

COMMENT: The West will not honor the ceasefire. It is a delaying tactic to allow the reforming of the Ukrainian military. The western propaganda is already in full-swing to prepare the public for a failed ceasefire, the declaration of martial law throughout Ukraine and a Western escalation of the conflict with Russia.
From the article:

"The Obama administration on Saturday released satellite images [commissioned from the private Digital Globe satellite company] that it said showed that the Russian army had joined rebels to mount a full-scale assault [artillery systems, multiple-rocket launchers, air defense systems] on surrounded government troops in eastern Ukraine [Ukrainian-held railway hub of Debaltseve], hours before a cease-fire set to take effect at midnight ...

"A Russian military spokesman, Gen. Igor Konashenkov, dismissed the images as 'reading the coffee grounds,' the Interfax news agency reported ...

"Ukrainian President Petro Poroshenko said as much Saturday, warning that if the cease-fire failed to take hold, he would declare martial law and step up military mobilization across his nation."

The propaganda is fierce.

Are Ukrainian government troops really surrounded at Debaltseve? YES / NO

• The Minsk Peace Deal: Farce Or Sellout? / Paul Craig Roberts, February 12, 2015
"As Washington is not a partner to the Minsk peace deal, how can there be peace when Washington has made policy decisions to escalate the conflict and to use the conflict as a proxy war between the US and Russia?"

• War is Peace in Ukraine / Margaret Kimberley, February 12, 2015
"The United States and the rest of NATO gambled when they took sides in Ukraine's 2014 political crisis. American fingerprints were clearly seen on the coup which sent an elected president into exile. The West succeeded in putting Petro Poroshenko in the presidency, then showered his nearly bankrupt country with money and sat back hoping to see a puppet regime firmly in place on Russia's border.

"The machinations haven't paid off exactly as they hoped. The people of the Donbass region didn't give NATO permission to tear their country apart and fought back against the newly installed regime ...

"From the beginning, the so-called separatists in the eastern Donbass region of Ukraine proved themselves superior to Ukraine's army ... The situation has gone from bad to worse for government forces and the increased desperation shown by western leaders proves that point."

• Minsk-2: The Useless Agreement Which Everybody Wanted / The Saker, February 13, 2015
"First, I would remind everybody that the junta as broken every single agreement it committed to. Every single one. And there is absolutely no reasons at all to believe that this time around this will change.

"Second, Poroshenko can promise all he wants, but the real power in the "independent Ukraine" is held by Uncle Sam and by the "Maidanites" he controls.

"Third, why do you think that Merkel and Hollande suddenly felt a powerful urge to "scratch their diplomatic itch" and decided to intervene? Could that sudden urge to negotiate have a little something to do with a place called Debaltsevo? If yes, what does the M2A say about Debaltsevo? Exactly. *Nothing*.

"Fourth, the agreement not even signed by Poroshenko, but by Kuchma on behalf of the Ukraine.

"Fifth, check out this section ... "
---

February 8, 2015

WHY ARE SCIENTISTS &AMP POLITICIANS
NOT GOING TO JAIL
FOR 'CLIMATE WARMING' CONSPIRACY AND FRAUD?




• The fiddling with temperature data is the biggest science scandal ever / Telegraph, By Christopher Booker
• Climategate, the sequel: How we are STILL being tricked with flawed data on global warming / Telegraph, By Christopher Booker
• Notalotofpeopleknowthat / Paul Homewood


---

February 6, 2015

Vaccine McCarthyism.
What if the Vaccine Paradigm itself is Deliberately Flawed?
Dr. Gary Null and Richard Gale
January 28, 2015


"No vaccine manufacturer shall be liable…for damages arising from a vaccine-related injury or death."
-– President Ronald Reagan, as he signed The National Childhood Vaccine Injury Act (NCVIA) of 1986, absolving drug companies from all medico-legal liability when children die or are disabled from vaccine injuries.


Executive Summary
"After several decades of studying the scientific literature regarding vaccines, following the money trails, and interviewing many dozens of toxicologists, immunologists, research physicians, pediatricians, and medical journalists the vaccine paradigm can now be accurately deconstructed with real independent science. The year, 2014, has been a particularly dismal year for the pro-vaccine movement. We are presenting the science that has unfolded during the past twelve months as indicative of a collapse in the modern vaccine paradigm."


• Read the full article here: Vaccine McCarthyism. What if the Vaccine Paradigm itself is Deliberately Flawed? / Global Research

Related articles and websites:
• National Vaccine Injury Compensation Program / U.S. Department of Health and Human Services
"The Vaccine Injury Compensation Trust Fund provides funding for the National Vaccine Injury Compensation Program to compensate vaccine-related injury or death claims for covered vaccines administered on or after October 1, 1988."

• Facebook Owner Takes Public Stand against Vaccine Refusers / Health Impact News, Feb. 22, 2015
• Mark Zuckerberg just slammed the anti-vaccination movement / Business Insider, FEB. 19, 2015
• Mark Zuckerberg Is Sending a Message to the Anti-Vaccine Crowd / Business Insider, February 19, 2015
• Zuckerberg takes aim at vaccine deniers through his online book club / The Verge, February 19, 2015

• Merck senior management tried to pay off its own vaccine scientists to remain silent about scientific fraud / Natural News
"The only way Merck was able to gain this monopoly in the first place was by demonstrating to the FDA that the mumps vaccine is at least 95 percent effective. According to the federal agency, this is the designated threshold at which so-called "herd immunity" is activated, supposedly providing near-total protection against infection.

Initial tests failed to reach this necessary threshold, so Merck resorted to data manipulation and blood sample tampering, the false results of which were submitted to the FDA as evidence of the vaccine's efficacy ...

"Krahling and Wlochowski participated on the team that conducted this supposedly enhanced test," reads the original filing. "Each of them witnessed firsthand the falsification of the test data in which Merck engaged to reach its 95 percent efficacy threshold. In fact, each was significantly pressured... to participate in this fraud."

"Those doing the pressuring included Merck Senior Investigator David Krah, as well as his second in command, Mary Yagodich. Merck's executive director of vaccine research, Alan Shaw, is also named as having "approved the testing methodology Krah and Yagodich employed."
-- Quoted from the article.
• U.S. Media Blackout: Italian Courts Rule Vaccines Cause Autism / Health Impact News
• What's Behind Big Pharma's Freak-out Media Blitz Over Measles? / Global Research, February 11, 2015
"The AAP leadership knows very well that vaccines cause autism. We need not waste anymore efforts in trying to educate them; we need to indict them." -– Dr David Ayoub

• Dr. Suzanne Humphries, M.D. – Vaccine Strain of Measles Virus Found in Measles Outbreaks / healthimpactnews.com


---

January 28, 2015

Kirchhoff's Law of Thermal Emission Invalidated
"The Theory of Heat Radiation" Revisited:
A Commentary on the Validity of Kirchhoff's Law of Thermal Emission
and Max Planck's Claim of Universality
"The experimental facts that invalidate Kirchhoff's Law of Thermal Emission
have now been augmented by a theoretical proof of its invalidity.
The implications for physics and astronomy are profound."
-- Stephen J. Crothers



Authors:
Pierre-Marie Robitaille, Department of Radiology, The Ohio State University, USA
and
Stephen J. Crothers, Queensland, Australia

Excerpt ...
"Affirming Kirchhoff's Law of thermal emission, Max Planck conferred upon his own equation and its constants, h and k, universal significance. All arbitrary cavities were said to behave as blackbodies ...

"... Arbitrary cavities do not contain black radiation. Kirchhoff's formulation is invalid. As a direct consequence, the constants h and k do not have fundamental meaning and along with "Planck length", "Planck time", "Planck mass", and "Planck temperature", lose the privileged position they once held in physics ...

"... For Max Planck, as for his teacher Gustav Kirchhoff, cavity radiation was independent of the nature of the enclosure. In reality, such ideas were not supported by experiment, as arbitrary cavities do not contain black, or normal, radiation. By applying his law to all cavities, the father of quantum theory detached his equation from physical reality itself."
Read the full paper here. / PROGRESS IN PHYSICS, Volume 11 (2015), Issue 2 (April)




---

January 27, 2015

Scientists slow down the speed of light travelling in free space
University of Glasgow
2015.01.23
Executive Summary
"Scientists [from the University of Glasgow and Heriot-Watt University] have managed to slow photons in free space for the first time. They have demonstrated that applying a mask to an optical beam to give photons a spatial structure can reduce their speed.

"... The work demonstrates that, after passing the light beam through a mask, photons move more slowly through space. Crucially, this is very different to the slowing effect of passing light through a medium such as glass or water, where the light is only slowed during the time it is passing through the material -- it returns to the speed of light after it comes out the other side. The effect of passing the light through the mask is to limit the top speed at which the photons can travel."
Background ...

Read the full paper here (pdf):
• Spatially structured photons that travel in free space slower than the speed of light / Daniel Giovannini, Jacquiline Romero, Václav Potocek, Gergely Ferenczi, Fiona Speirits, Stephen M. Barnett, Daniele Faccio, Miles J. Padgett

Read the related articles:
• patially structured photons that travel in free space slower than the speed of light / sciencemag.org
• Scientists slow down the speed of light travelling in free space / sciencedaily.com


---

January 20, 2014

Boston Marathon Bombing [Dzhokhar Tsarnaev] Trial
This will be a locked down, kangaroo court.
DAY EIGHT: A Public Trial Gets Closed to the Public


• Boston Marathon Bombing Trial News Feed
---

January 19, 2014

American Sniper Exposed As Giant Hoax



by The Alex Jones Channel
• On YouTube: American Sniper Exposed As Giant Hoax.
• On YouTube: Chris Kyle's Stories Do Not Add Up.



Related:
• American Sniper? / telesurtv
"Chris Kyle built his reputation as a sniper during one of the most criminal operations of the entire occupation of Iraq, the 2nd siege of Fallujah ... The fact that a man who participated in the 2nd siege of Fallujah — an operation that killed between 4,000 to 6,000 civilians, displaced 200,000, and may have created an epidemic of birth defects and cancers — can come home, be embraced as a hero, be celebrated for the number of people he has killed, write a bestselling book based on that experience, and have it made into a Hollywood film is something that we need to reflect on as a society."

• 7 heinous lies "American Sniper" is telling America / salon
"The film American Sniper ... [is] built on a set of half-truths, myths and outright lies that Hollywood didn't see fit to clear up ... In the book, Kyle refers to everyone he fought as "savage, despicable" evil. He writes, "I only wish I had killed more." He also writes, "I loved what I did. I still do. If circumstances were different – if my family didn't need me – I'd be back in a heartbeat. I'm not lying or exaggerating to say it was fun. I had the time of my life being a SEAL."



Taya &amp Chris Kyle, image CNN
• CRAFT International
• Web search: Jessica Lynch
• Web search: Pat Tillman



---

December 31, 2014

HAPPY
NEW
YEAR!
1525 ... 2014 2015 2016 ... 2525



Image: Norse Dark Intelligence
"Every second, Norse collects and analyzes live threat intelligence
from darknets in hundreds of locations in over 40 countries."
• Cyber Warfare Attacks Real-Time
---
---



America needs to bring its troops home from all over the world, now.



"In the counsels of Government, we must guard against the acquisition of unwarranted influence, whether sought or unsought, by the Military Industrial Complex. The potential for the disastrous rise of misplaced power exists, and will persist. We must never let the weight of this combination endanger our liberties or democratic processes. We should take nothing for granted. Only an alert and knowledgeable citizenry can compel the proper meshing of the huge industrial and military machinery of defense with our peaceful methods and goals so that security and liberty may prosper together."
-- President Eisenhower, January 1961 –

"War is just a racket. A racket is best described, I believe, as something that is not what it seems to the majority of people. Only a small inside group knows what it is about. It is conducted for the benefit of the very few at the expense of the masses … I believe in adequate defense at the coastline and nothing else. If a nation comes over here to fight, then we'll fight. The trouble with America is that when the dollar only earns 6 percent over here, then it gets restless and goes overseas to get 100 percent. Then the flag follows the dollar and the soldiers follow the flag."
-- Major General Smedley Butler, USMC, on Interventionism, Excerpt from a speech delivered in 1933 –

"'Tis our true policy to steer clear of permanent alliances with any portion of the foreign world."
-- George Washington (1732-1799), U.S. general, president. speech, Sept. 17, 1796. Farewell Address, vol. 35, The Writings of George Washington, ed. John C. Fitzpatrick (1940). --

"Peace, commerce, and honest friendship with all nations - entangling alliances with none."
-- Thomas Jefferson noninterventionist foreign policy position, 1801 inaugural address --

"...Commerce, which if properly managed, will be a better instrument for obliging the interested nations of Europe to treat us with justice."
--Thomas Jefferson (1797) --

"I have ever deemed it fundamental for the United States never to take active part in the quarrels of Europe. Their political interests are entirely distinct from ours. Their mutual jealousies, their balance of power, their complicated alliances, their forms and principles of government, are all foreign to us. They are nations of eternal war."
-- Thomas Jefferson (1743-1826), U.S. president. Letter, June 11, 1823, to President James Monroe --

"America does not go abroad in search of monsters to destroy. She is the well-wisher to the freedom and independence of all. She well knows that by one enlisting under other banners than her own, were they even the banners of foreign independence, she would involve herself beyond the power of extrication in all the wars of interest and intrigue, of individual avarice, envy and ambition, which assume the colors and usurp the standards of freedom. The fundamental maxims of her policy would insensibly change from liberty to force....""
-- John Quincy Adams (1821) --

"The great rule of conduct for us in regard to foreign nations is, in extending our commercial relations, to have with them as little political connection as possible."
-- George Washington –

"Whatever it is that the government does, sensible Americans would prefer that the government do it to somebody else. This is the idea behind foreign policy."
-- P.J. (Patrick Jake) O'Rourke (b. 1947), U.S. journalist. "Very Foreign Policy," Parliament of Whores (1991) --


---
Related articles by this author:
• Outside the Box
• Oil Wars: Part 1
• Oil Wars: Part 2
• A Quiet (election) War In the Ukraine
• The Energy Model Must Change
---
---

Photo copyright 2006 David Sadler / Yaking the Potomac River through Washington, D.C.
Pentagon on far bank
---
Locations of visitors to this site plotted on world map.
Click on map to register your location.
Then click 'Map with smaller clustrs' for more detail.
Your location should appear within a week.
All locations are CLEARED each year in June.


Compare cluster to Earth lights...
---
Front Page A R C H I V E S
&amp
Outside the Box
---
---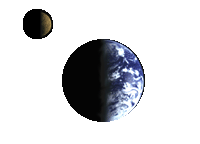 Earth &amp Moon from Galileo spacecraft as it was leaving Earth space. Photo: NASA; All mission costs paid for by the American taxpayer.
---

All material on this website is authored and copyrighted by David Sadler unless otherwise noted. Individual articles and comments may be reposted and reprinted as long as the author is given full credit and a link is provided to this website. david-sadler.org is not responsible for the content of linked external websites. Quoted portions of articles are posted under Fair Use. Thank you...

---